Panagalactic Sound Immersion with Sound Massage – West Pawlet, VT
March 11 @ 1:00 pm

-

2:30 pm

$35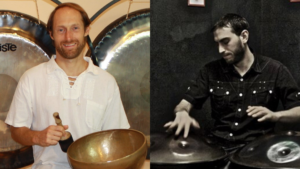 Panagalactic Sound Immersion with Sound Massage – Spring Tour
Jed Blume (Handpans) and Kirk Jones (Gongs, Crystal & Bronze Bowls)
Join Kirk Jones of Evolvlove Sound Therapy and Handpan Maestro Jed Blume (https://jedblume.com/) for an immersive resonant experience of sound and vibration.
Tone-matched gongs, handpans, and crystal bowls will create an enveloping soundscape while large bronze singing bowls are rung and sung on the body.
This session is designed to clear energetic and muscle tension, guiding you to healing within and bringing you and your nervous system into deep restorative relaxation.
All are welcome!
Saturday March 11
1pm – 2:30pm
Sohla Community Center
2849 VT Rte 153
West Pawlet, VT
$35
Email Nori: [email protected]